Efforts to Improve Quality
Quality Policies
We do our best to improve quality and to achieve customer satisfaction.
We seek to strengthen the awareness and actions of each employee.
We consider safety, sanitation, and the environment.
We comply with all applicable laws and regulations and meet our own voluntary standards.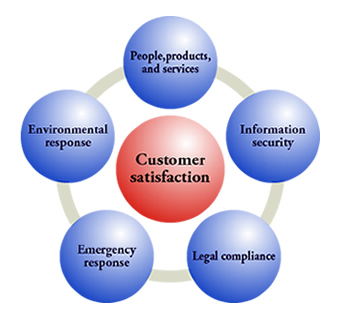 Delivering peace of mind to all those working at the frontlines and helping to establish a healthy society.
Our most important assets are the expertise we've accumulated and the trust we've won.
Since our founding in 1905, we've won trust through sustained efforts to improve quality.
The criteria that ensure suitable performance in safety and quality will continue to grow more rigorous. We've established a stringent inspection system based on decades of slow and steady efforts whose goal is to ensure quality.
We maintain this attitude to this day. We pay rigorous attention to the environment to ensure full quality control and to confirm that the appropriate criteria for the era are met.
We're committed to our role in creating ideal living environments that allow ordinary citizens to lead healthier, safer lives, an imperative shared across the segments of medical industry, food industry, nursing, engineering, and daily life.
Pinhole leak test

Check products for water leaks by identifying pinholes (tiny holes) in gloves.
Tensile test

Measure the strength, elasticity, etc. of products accurately by pulling in a certain direction.
Aging test

Check highly polymerized materials, such as rubber and plastics, by rotating and heating to simulate the effects of age.
Visual inspection

At the final inspection process, check products visually by looking for abnormalities that machines have difficulty identifying.
Acquisition of ISO Certification
We obtained ISO14001 and ISO 9001 certification companywide in 2004 and 2005, respectively. By 2015, more than 10 years after obtaining ISO14001, we had come to regard environmental efforts as part of our quality activities. At this time, we began deploying ISO9001 activities, which include the terms and provisions of ISO14001. In 2017, we formulated concepts and set voluntary standards related to Business Continuity Management (BCM) to minimize the risk of service suspension in the event of emergencies, as well as Information Security Management Systems (ISMS) for the information that we handle. We obtained ISO13485: 2016 certification in 2017 to strengthen our ability to deliver safety and quality in the medical devices that constitute our core business.
■Obtained ISO14001 between 2004 and 2015 (Certification body: JACO)
■Obtained ISO9001 between 2005 and 2017 (Certification body: JACO)
■Obtained ISO13485: 2016 in 2017 (Certification body: BSI Group Japan Co., Ltd.)
(Manufacturing, production control, and sales of synthetic rubber gloves for inspection and examination; manufacture of oximeters for functional inspections at the Company's medical device organization.)
Medical Device License
Second-class medical device marketing license

Medical device manufacturing license

Specially controlled medical devices sales license
Specially controlled medical devices rental service license
Unauthorized copying or duplication of the contents of this site, text, and/or images is strictly prohibited.